Along with our extensive portfolio of dental treatments, The Link Dental Surgery offers services to improve your facial aesthetics, non-surgically. These include Profhilo, Wrinkle Corrections and Dermal Fillers.
What Is Facial Aesthetics?
Facial aesthetics is rapidly becoming a group of leading cosmetic procedure in the UK thanks to its many positive benefits. Facial aesthetics refer to a group of non-surgical procedures that can be used to treat fine lines, wrinkles and loss of skin volume.
Facial aesthetic procedures can diminish the visible signs of ageing, such as unflattering creases and lines. This makes a face look younger and rejuvenated.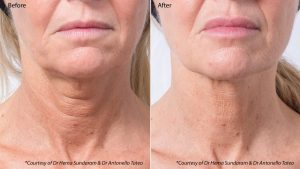 What Is The Process?
During your consultation, our experienced practitioner will discuss the specifics of the treatments you would like and recommend the options that is optimally suited to your requirements. They will also consider your health and well-being.
Treatments we provide:
For more information on our Profhilo, Wrinkle Correction or Dermal Filler treatments please get in touch. Or to request a free consultation please click below:
< Back to treatments