Personalised Tooth Whitening Kit at The Link Dental
08/02/2021
Personalised Tooth Whitening Kit
With Valentine's Day around the corner, why not treat your loved one to a personalised tooth whitening kit, courtesy of Boutique Whitening.
The personalised tooth whitening kit can be yours for £400 and this offer includes a FREE dental hygienist appointment worth £55.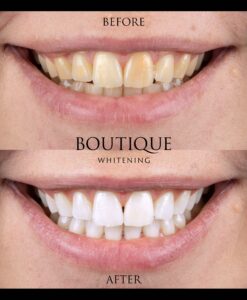 What is Boutique Whitening?
Boutique is a professional teeth whitening system that can only be prescribed by a dentist.
How does it work?
Tooth whitening by Boutique is so simple! Your dentist takes a mould and Boutique Whitening can then precision manufacture your bespoke whitening trays. You then decide with your dentist which system will best suit your lifestyle – apply the gel as directed to unveil your new brighter, whiter smile.
Fore more information please get in touch with a member of our team today. T&Cs Apply.
*Offer valid until 20th February 2021
*Must have had a recent dental check up within the last 6 months and be dentally fit to use
< Back to blog