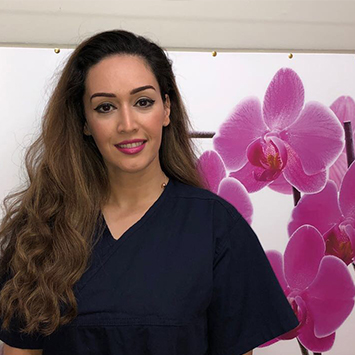 Dr Asieh Ghasemi
GDC No. 228289
Principal Dentist
BEng(Hons), BDS
Asieh completed her Bachelor of Dental Surgery at the University of Bristol in 2012.
Prior to this she studied Aerospace Engineering and completed her Masters degree in 2006. Following her graduation in 2012 and completion of her foundation training she spent a year working in the Maxillofacial Dept at Derriford Hospital in Plymouth as a senior house officer, gaining vast experience in surgical and non surgical dental extractions as well as dealing with head and neck trauma and being involved in head and neck cancer clinics and operations.
Ever since, she has worked as a general dental practitioner in dental practices and has focused on gaining experience whilst further training in her particular areas of interest including treatment of Periodontal disease (gum disease), Endodontics (root canal treatment), Cosmetic Dentistry as well as Facial aesthetics.
Asieh's experience of working in primary and secondary care setting as a dentist has equipped her with in depth knowledge of head and neck anatomy. This hand in hand with the training she has had in the field of aesthetic medicine has enabled her to be able to offer a variety of non -surgical, minimally invasive procedures including anti-wrinkle injections and Facial Fillers to reduce appearance of fine lines and to enhance and improve your appearance in a very natural and subtle form. She can is also trained to perform more advanced procedures such as lip and cheek augmentation as well as brow lift amongst others.
Asieh is truly passionate about prevention and works closely with her patients to ensure they achieve and maintain healthy smiles. Asieh prides herself on being a gentle dentist and tries her best to put her patients at ease.
In her spare time Asieh does oil painting and enjoys going on long walks.
< Back to team