What is a non-surgical rhinoplasty?
Our non-surgical rhinoplasty treatment is a non-surgical procedure which involves the altering or reshaping of the nose with dermal fillers. The treatment may involve filling in depressions, smoothing out sharp angles and improving the symmetry of the nose, these injectable fillers can give it a more streamlined appearance without surgery.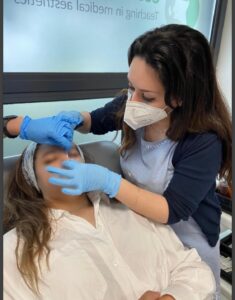 How does it work?
The procedure usually takes no longer than hour and results are immediate. As a topical anaesthetic is applied to the nose before injections are given and the dermal fillers themselves contain an anaesthetic, the procedure isn't particularly painful. Due to its minimal downtime, the vast majority of patients are able to carry on with their daily activities immediately after the procedure, but should avoid exercise for at least 48 hours and not wear glasses for at least the same period of time but ideally longer.
What are the benefits?
Smooth out bumps and uneven contours
Improve nose profile and chin projection for optimal symmetry
Restructure the shape of the nostrils
Treat a 'hooked nose'
Maintain a natural look
Minimal downtime
Please bear in mind, not everyone is a suitable candidate for this treatment and the results will very much be dictated by important anatomical structures present in this area. Hence a consultation is required prior to undergoing this procedure.
Arrange a free consultation today!
One of our friendly clinicians will be happy to answer any questions you may have and an online consultation may be offered. The Link Facial Aesthetics Clinic have fully qualified medical experts and are rated excellent by our clients on Google.
**Due to Covid-19 we have additional health and safety measures put in place to protect our teams there may be a delay in getting back to you.**
< Back to treatments