Profhilo at The Link Dental, Yateley, Hampshire
Rejuvenate, hydrate and stimulate collagen production with this cutting edge anti-ageing injectable treatment.
Profhilo is a new anti-ageing approach that delivers great results as a treatment on its own, or in combination with other aesthetic treatments currently on offer at The Link Dental Surgery.
Who is Profhilo for?
As we age, the presence of hyaluronic acid in the skin naturally starts to drop, which causes the skin to lose its natural firmness and elasticity. Most people begin to see the effects of hyaluronic acid depletion as they reach their 30s – and Profhilo is the perfect treatment for anyone looking to counteract this.
Where can Profhilo be used?

Profhilo is usually administered into the skin in five key areas (when administered to the face): the tops of cheeks, side of the face, lines around the mouth, nasolabial folds and laughter lines. It can also be used to improve the appearance of the skin around the neck, chest and décolletage.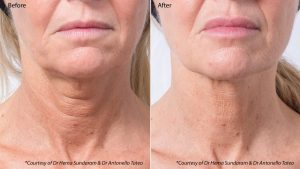 Profhilo was voted the winner of the Product Innovation of the Year at a recent Aesthetics Awards ceremony.
The Link Dental Surgery in Yateley is currently providing an introductory offer of £540 (regular price £600).
For more information on Profhilo or to book a free consultation please get in touch via phone: 01252 872 497 or by completing the form below:
< Back to treatments