Invisalign Treatments at The Link Dental Surgery in Yateley
17/06/2021
Invisalign Treatments at The Link Dental Surgery in Yateley

Have you been thinking about teeth straightening treatments but are confused about the many choices available on the market? If so, Invisalign should be on top of your research list! With years of experience in aligner systems, Invisalign uses technology used by NASA to achieve optimal results in teeth straightening. It is a trusted and well known brand by patients and clinicians alike. 
Searching for an Invisalign Provider
If you have already done your research and would like to use Invisalign but are unsure which dental surgery to choose, one easy way to help you decide is to look at their Invisalign Provider Level. While there are plenty of bronze, silver, and gold ones, only a few qualify to be called Invisalign Platinum Providers.
Invisalign's Provider System
To help patients know which dentists have taken the time to train and learn about Invisalign's technology, Invisalign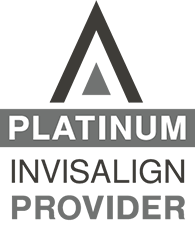 came up with the 'provider' system. Dentists who have successfully treated a small number of patients with Invisalign were designated as bronze providers, and they could progress to silver, gold, and eventually platinum status, which indicates that they have helped over 300 patients achieve their desired results.
Dr. Teresa Day, one of our Dentists at The Link Dental Surgery Yateley has undergone all necessary training with Invisalign and has now received their Invisalign Platinum provider status, having treated over 700 patients successfully. Her platinum status is a confirmation of her extensive experience and training focused on this specific treatment.
In addition, Dr. Asieh Ghasemi, The Link Dental Surgery's Principal Dentist has obtained an Invisalign Go status meaning that she has also undergone training programmes and has a great deal of experience in dealing with shorter treatments for mild to moderate imperfection cases. Invisalign Go uses fewer aligners, so treatment time can be as short as 6 months.
When you partner with an Invisalign Platinum Provider such as The Link Dental Surgery Yateley, not only will you have a smile you love, you will also enjoy peace of mind throughout the process. You can trust that we have already helped hundreds of patients achieve their smile goals, both discreetly and comfortably, and we're ready to do the exact same for you!
What are you waiting for? Get in touch with us today to book your initial FREE consultation.
< Back to blog